In a world filled with chaos and uncertainty, there's one constant that never fails to warm our hearts – a romantic drama series on Netflix. Whether you're curled up on the couch with your significant other or flying solo with a bowl of popcorn, these shows offer the perfect blend of love, passion, and heartache. In this blog, we'll dive into the 20 most romantic drama series on Netflix in 2023, guaranteed to make your heart skip a beat and keep you glued to the screen.
1. Bridgerton:
Set in Regency-era London, this period drama series follows the lives, scandals, and romances of the Bridgerton family. It's a visual treat with lavish costumes and steamy affairs.
2. Outlander:
Travel through time with Claire and Jamie Fraser in this epic historical romance. Their love story spans centuries and continents, making it a fan favorite.
3. Virgin River:
Nestled in a picturesque small town, this series explores the life of nurse Mel Monroe and her encounters with love, loss, and the charming Jack Sheridan.
4. Sweet Magnolias:
Follow three lifelong friends as they navigate the complexities of love, career, and family in the charming town of Serenity.
5. Firefly Lane:
Tully and Kate's friendship is at the core of this heartfelt series. Their ups and downs through the years will resonate with anyone who has a best friend.
6. The Crown:
While not a traditional romance series, the love stories woven into the lives of the British royal family are captivating and often tragic.
7. Locke & Key:
This supernatural series has an undercurrent of teenage romance amidst the mystery and magic.
8. Emily in Paris:
Escape to the City of Love with Emily as she navigates her career and romantic entanglements in the glamorous world of Paris.
9. The Witcher:
Geralt of Rivia's quest is not just about hunting monsters; it's also about his complicated relationship with Yennefer and the destiny-bound love with Ciri.
10. You:
Follow Joe Goldberg's twisted love stories in this dark, thrilling series that explores the depths of obsession.
11. The Umbrella Academy:
Superpowers and dysfunctional family dynamics mix with unexpected romances in this quirky series.
12. Love on the Spectrum:
This heartwarming documentary series explores love and relationships among young adults on the autism spectrum.
13. Atypical:
Sam Gardner's journey to find love and independence is both heartwarming and enlightening.
14. Dash & Lily:
Set in New York City during the holiday season, this series follows Dash and Lily as they exchange dares and dreams in a red notebook.
15. The Haunting of Bly Manor:
This horror anthology has a romantic subplot that will haunt your heart long after the scares are over.
16. Elite:
This Spanish thriller combines murder mysteries with steamy love triangles amidst the backdrop of an elite school.
17. Never Have I Ever:
Follow Devi Vishwakumar as she navigates the challenges of high school, friendship, and her pursuit of a boyfriend.
18. Sex Education:
Awkward teen Otis teams up with his school's resident bad girl to start a sex therapy clinic, leading to complicated relationships.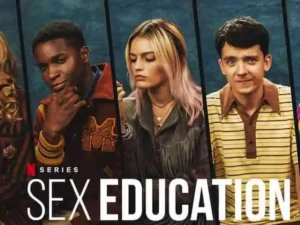 19. The Kissing Booth:
The trilogy follows Elle Evans as she navigates her romantic relationships, growing up, and making tough choices.
20. 13 Reasons Why:
Although a sensitive topic, this series explores the repercussions of bullying and trauma, including the relationship between Clay and Hannah.
Netflix has become a treasure trove of romantic drama series in 2023, catering to all tastes and moods. Whether you're into historical romance, modern love stories, or supernatural twists, there's something for everyone. So, grab your remote, and a cozy blanket, and prepare to be swept away by the passion, drama, and heartache that these 20 series have to offer. Happy binge-watching!