Well, welcome to mpyanews.com  from wherever part of the world you are reading this from. We value you and your presence brings us joy. The latest news hitting our station today is that WCB Wasafi singer Zuhura Othman, commonly known to many as Zuchu has been involved in an accident.
Through her official Twitter account, the renown singer has uploaded a photo of herself receiving treatment in the hospital. Upon zooming the photo, it is clearly evident that the doctor could be seen stitching her knee would. However, it is not clear as to why the Singer failed to explain what type of accident she was involved in.
This comes at one of the most crucial times when the singer is planning a tight schedule ahead of a Nigerian show.  Currently, she is in a dilemma whether to cancel the show or just move on with it. However, she has said that cancelling the show is not a good option and that she will proceed to Nigeria just the way she is. Her Manager Dorice Mziray is still insisting that she could cancel the show and priotize her health first.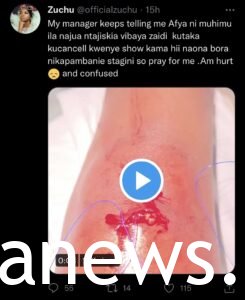 It should be remembered that Zuchu is the first female artiste in East Africa to clock 1 million subscribers on YouTube and also the first in Africa to achieve that in 11 months.
OTHER TOP ARTICLES OF THE DAY:
Mike Brown Biography, career, wife and Children
Mucisian Embarambamba Bio, age, wife and Children
TO JOIN OUR FACEBOOK PAGE, CLICK ON:
https://mobile.facebook.com/mpyanews/?_rdc=1&_rdr