William is one of the most established wingers in the football world, having a blossomed career with Chelsea football club and later Arsenal FC. Through the years he has played for the two giant clubs in England, he has amassed plenty of skills that enable him to dribble through defenders and thus scoring a number of goals for his club and country. The Brazilian has left corinthians on a free transfer to Fulham United that is now playing in England's topflight side English Premier League.
In his maiden speech, Willian and his family admitted that they are happy to be back in the English Premier League and that Fulham is a special club that wants to grow big.
There is no doubt to the fact that Veteran Willian will bring along the vast experience needed in Fulham's squad and that he will be instrumental in seeing the club sore to greater heights.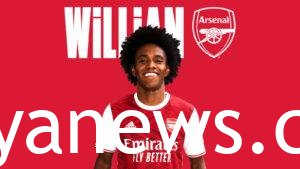 During his tenure at Chelsea football club, he featured in 339 games for Chelsea and scored a record number of 63 goals, and won a number of major trophies.