Stivo Simple Boy's ex girlfriend Pritty Vishy has been trending in various social media platforms after a nasty breakup with the rising star. Stivo is one of the famous musicians in Kenya commonly known for his viral hitmaker song "ndio manake". Stivo has also been praised as the king of Kenyan phrases. This is after his tag "Freshi barida" went viral, earning the musician one of the top slots in the Kenyan music Industry. In an Interview with the Eve Mungai Online Television, Stivo simple boy revealed that he had broken up with his former girlfriend and that he had moved on.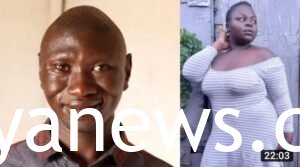 Replying to the drama, we held a virtual interview with Pritty Vishy who confirmed the allegations that indeed the two lovebirds had parted ways. Pritty claimed that she had cheated on Stivo simple boy with three wababaz but Stivo was too dump to understand that he was being cheated on.
Pritty Vishy believes that she is so beautiful and has asked Kenyan men to flock in her dm as she is officially single. Pritty is an upcoming content creator as well as a youtuber. She disclosed to Mpya News Kenya that she was the one who made the first move and invited simple boy to a luncheon with a friend.
The two former lovebirds met in 2017 at the Kibra Creative art Centre. During the lunch hour, Pritty invited Stivo to join her in a lunch that she had packed in her bag. Much to her surprise, Stivo accepted and as it is said, the rest is history. Now that you are up to date, don't forget to follow our Facebook page link the following link: https://mobile.facebook.com/mpyanews/?_rdc=1&_rdr
OTHER TOP ARTICLES:
Mucisian Embarambamba Bio, age, wife and Children
Kenyan Neurosurgeon serving life sentence in Kamiti prison for Buying a Phone