Imagine being massaged by a six fingered man… It must be one of the sweetest things in the world as he has additional two fingers that makes the entire difference in such an industry. James Kamau is a happy man, enjoying an advantage that the creator gave him as a young child. The handsome man hails from the Karushwa Location of Dundori ward in Bahati constituency, Nakuru county. To read this article on our official website, click on https://mobile.facebook.com/mpyanews/?_rdc=1&_rdr#
Over the time, he has mastered the art of exceptional massage, leaving his clients asking for more from him. James is not the ordinary masseur that you will encounter in the streets. His unique features in the hands keep his customers coming back.
James recalls answering a mathematic question that asked him to state the number of fingers on his hands. He gave a answer six, a thing that prompted the teacher to summon him for caning. The teacher was surprised that James indeed, had six fingers.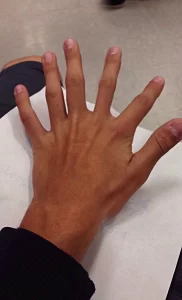 The Information technology grandaunt has reveled to us that he was born on the 11/11 and more reason as to why he has  11 fingers and toes. He is making a kill from his beauty parlor that s located in Githurai, Kimbo, close to 20 kilometers from the Nairobi central business district.
For those asking questions as to which medical condition is James aligned to, the condition is known as polydactyly where one is born having extra fingers and toes.
OTHER TOP ARTICLES:
William Ruto will win the August Presidential Race: New TIFA Poll indicates
Dancer of the Year! Meet the Jovial David Moya and His Biography
CLICK THE LINK BELOW TO LIKE OUR FACEBOOK PAGE:
https://mobile.facebook.com/mpyanews/?_rdc=1&_rdr#