There is never a boring day in Kenya. Singer Madam Boss, Akothee herself has found herself on the wrong side with Kenyan Netizens after insinuating the amount of Money to will cost a man to break her Second daughter's virginity.
According to the veteran singer and millionaire Akothee, her daughter Rue Baby is a virgin who has kept her pants up all to herself and is mot ready to loose her virginity to a broke man. Below is a photo of Rue Baby;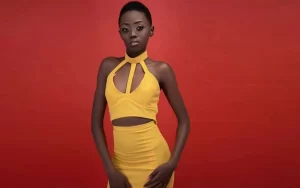 In her defense and remarks, Rue Baby seemed to be very pleased with the choice of words her mother used. Here is all she had to say: "Every woman has to decide on her own if it is worth giving her virginity for free to this gender that betrayed Jesus Christ who maybe, later on , will break up with her. Rue Baby  is the CEO of Akothee safaris and a millionaire future inheritor of her mothers vast wealth.
Kenyans have come out in large numbers, especially ladies, to rubish the remarks made by Akothee on the hefty amount of money to break her daughter's virginity. Many ladies have claimed that in the current Kenya, there are no virgins, insinuating that Akothee is lying to us that the daughter is one.
All the same, one critical issue that has risen is the place of the mother in law in determining who will marry their son or daughter. Many mothers are known to dictate who their children will marry with the rich opting to marry the rich and never the poor. A broke lady can marry a rich man but a broke man cannot even afford to marry a poor lady! Interesting times!
FOLLOW OUR FACEBOOK PAGE FOR MORE UPDATES VIA THE LINK BELOW: 
https://mobile.facebook.com/mpyanews/?_rdc=1&_rdr
OTHER TOP ARTICLES:
'Aibu tupu!'Raila Embarrassed Terribly in Iten, Elgeyo Marakwet today following this reason
Luo Man gifts daughter with a Toyota Prado Tx for passing KCPE
Dancer of the Year! Meet the Jovial David Moya and His Biography