Must Watch: Video of Raila's wife being 'rejected' in Meru: I don't know how it feels to be rejected by a majority of people, especially in a public gathering. It must have been a little bit traumatizing for ODM leader Raila Odinga's wife who appeared to be saddened by the turn of events in Meru county.
The catholic Church is one of the largest in East and Central Africa due to the world of the early missionaries to Africa. On Saturday 26th March 2022, a large number of women from different parishes in Meru and Tharaka Nithi counties were gathered to celebrate one of the most important events in the history of Catholic events, the annunciation of Jesus Christ.
The event marks the day when Angel Gabriel announced to Virgin Mary that she will be pregnant and will bear a child would will be the Messiah and the savior of the world.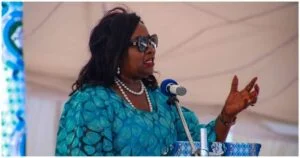 Mama Ida Odinga was one of the invited guests in the Saturday event. She arrived in a private chopper accompanied by a group of local leaders including Vocal Meru Senator Mithika Linturi. When it was Ida's turn to address the event, the cloud could not keep calm as unrest escalated to high levels. Attempts by the local leaders available to calm down the crowd proved future. The MC prompted the attendees to maintain silence but they couldn't do so. Ida went ahead to please the crowd to listen to her as she was not a politician, but just a fellow lady. Here are the videos.
Even as the August polls near everyday, the political temperatures in the country are rising on a daily basis. There should be more talks on peace maintenance. ODM affiliated leaders have come out in large numbers to condemn the action and went ahead to spread the message of peace.
What surprised our reporters is that when greetings of William Ruto were announced to the gathering, they all rose to celebrate. Might they be affiliated to UDA? Chat with us today.
TO FOLLOW US ON FACEBOOK FOR MORE ARTICLES, CLICK ON THE LINK BELOW:
https://mobile.facebook.com/mpyanews/?_rdc=1&_rdr