'Unlike Ruto, I paid for my Own Travel Fare' Raila Claims: See How much he paid: Raila Odinga is currently in the United Kingdom for a five-day working tour that is probably ending today. Together with his delegation, Raila left the country on Sunday evening for the United Kingdom after holding a series of political meetings in Kenya. Upon landing in the United Kingdom, he was well received by Kenyans living in the country as well as accorded the much respect he deserves. Just some days ago, DP Ruto was having his working tour in the United States of America as well as the United Kingdom. In his speech today, Raila has revealed that he personally paid for his travel expenses to the United Kingdom and now claims that his competitor William Ruto didn't use a single penny in his travels as they were funded.
This comes in the wake of an intensive campaign that sees Kenya's second in command challenge Raila Odinga in the August Polls. If Raila's claim on paying his own fare to the United Kingdom is valid, then he and his delegation must have parted with a huge amount of money which I am about to reveal to you. Take a look.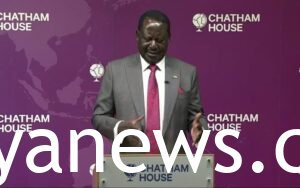 If Raila Odinga and his delegation used the Kenya Airways flights to the United Kingdom, each of them would have parted with close to Kshs 94,760 for the economy class in the plane ended to London Heathrow International airport for a round trip( with Return ticket included). If they chose a VIP section, each of the members parted with between Ksh 106,489 and Kshs150,678.
If Raila's delegation opted for a chartered plane, it will have cost them between Ksh 2 million and 10 million depending on the air services used.
To Like and Follow our Facebook Page, click on:
https://mobile.facebook.com/mpyanews/?ref=py_c
Other Articles:
http://dailyfootballupdates.com
Kenyan School where Liverpool's Jurgen Klopp's Wife Taught for 3 Years