List of Expensive Properties and Companies owned by Raila Odinga: There is no doubt to the fact that the Odinga family is one of the largest in the country, worth billions of Kenyan shillings. Since the times of Jaramogi Oginga Odinga, the family has expanded in terms of the net capital invested in various income generating projects. Our focus today is on one of the members of the family and the 2022 presidential aspirant, Raila Odinga. How much is he worth? How many global multilateral companies does he control? Take a look.
1.His Rural Home in Riat(Kshs 1 billion)
The rich families have a tendency of building retire homes located in their rural areas. Most of this homes are located away from the troubles of the city and are decided in a way that looks exclusive and rich. Raila's home is located in  Riat Hills of Kisumu County. It has over 10 bedrooms, a theatre, conference halls, Jaccuzzi, Helipads among many other facilities.
2.Karen Home.
Every rich politician has a state or art home within the City, that is, within Nairobi County. His Karen Home is worth Millions.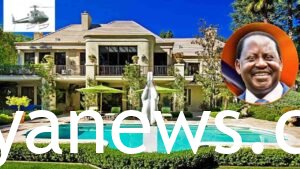 3.Runda Home.
Raila has a property in Runda where the rich, wealthy Kenyans live in, including owners of Multi-billlion Companies and CEO's of global industries without forgetting ambassadors and other rich people.
4.Opoda Farm.
Not Known to many, Raila has a passion for Agriculture. In the farm, there is the Jaramogi Oginga Odinga Mausoleum. President Uhuru Kenyatta Visited the home for the first time after the 2018 handshake.
5.East African Spectre Company:
It is a company owned by Raila Odinga and family. It manufactures construction materials, steel doors and also gas cylinders. The company builds the cylinders that deal with the Liquified Petroleum Gas (LPG).
6.Pan African Petroleum Company.
The huge company has sales of over 500 million in a good month. It imports and distrubutes petroleum products.
These are just a number of state of art companies owned by Raila Odinga. Many are there unknown, yet owned by the Odinga's. Thanks for reading.
LIKE OUR FACEBOOK PAGE @MPYA NEWS KENYA
OTHER TOP ARTICLES OF THE DAY:
http://dailyfootballupdates.com