Terrible Times! Lionel Messi Booed by Angry PSG Fans: Paris, Paris, Paris! Mentioning this name three times might not help the team recover from their previous losses but might help in winning your attention. Welcome from wherever part of the world you are reading this from. Who knew that at one point, Messi could be booed by angry fans. Indeed nothing is permanent under the sun. See the reason as to why the fans acted as they did.
We all agree that Paris Saint Germain is currently not on form. They have been loosing a league game after the other despite investing billions of money in world class players. To be sincere, PSG has all  the players a coach could ask for but their performance remains wanting. Players like Neymar, Messi and Mbappe give defenders sleepless nights yet the club isn't performing.
Just last week, Messi could not deliver Paris from the hands of their rivals Real Madrid. They ended up being eliminated from the Prestigious Champions league despite the 1-1 draw at the Parc des Princes during the first leg. Where is the problem?
Emerging news have proven that fans are not happy. During their league game this weekend, Lionel Messi was booed by a section of PSG fans who are not happy by his performance. Many subscribe to the school of thought that Messi is better talented but isn't delivering at Paris. This happened during PSG game vs Bordeaux. Also booed was Star Neymar.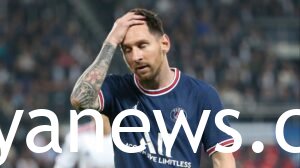 You may blame change of environment, club, coaches, training facilities, failure to adapt to game pattern but the truth remains Messi is struggling at Paris. Thanks for reading.
OTHER ARTICLES OF THE DAY:
Celebration in UDA as 30 Kiambu MCA'S Deflect from Jubilee to UDA Party
Relieve as Dp Ruto Comes Out to Defend Boda-boda Operators
http://dailyfootballupdates.com