Innovation is taking the world to another level. As it is said, necessity is the mother of all inventions. It seems that this Ghanaian man must have suffered much under the arms of scrumptious thieves to a point of thinking of this wonderful innovation.
In a video shared to various social media platforms, the Ghanaian Man has shown off his skills in Technology and innovation as he showed off his skills of making a padlock that calls the owner every time it is touched or opened. This innovation comes at a crucial time when the world is struggling to curb down theft by duplication of keys or what is commonly known as clean theft.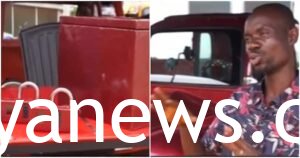 The Ghanaian Man seems to be a pro in the industry as he has made different kinds of security locks and has managed to show us how they work. The entrepreneur has said that the innovation in the security industry will help business owners to monitor their workplaces even when away to a different continent.
Many people who have come across the video were impressed by the kind of innovation being conducted by the African continent. It is a clear indication that Africa is rising and will soon be an economic and innovation giant.
OTHER TOP ARTICLES OF THE DAY:
https://ourfashionpassion.com/most-stylish-pastors-in-the-world-with/
Bongo Tanzanian Singer Zuchu Involved in an Accident
CLICK HERE TO JOIN OUR FACEBOOK PAGE:
https://mobile.facebook.com/mpyanews/?_rdc=1&_rdr