Fitness is very essential in our day-to-day activities. Kenyans have been known to flock to various gymnastics around the country in a bid to look younger and maintain their body fitness. One of the renowned gym instructors in the country is Nicki Bigfish. He has held fantastic gym sessions that have helped a number of people. However, Nicki Bigfish is under fire by a section of Kenyans who believe that his gym sections are a little way too far, especially when handling a female client.
Through his official and approved Facebook page, Nicki Bigfish uploaded photos of a gym section when handling a female client. Here is his caption: "Nicki Bigfish the FITNESS INSTRUCTOR. We major in professionalism. Allow your girlfriends to be fit, trust me to do a good job. Video dropping tomorrow".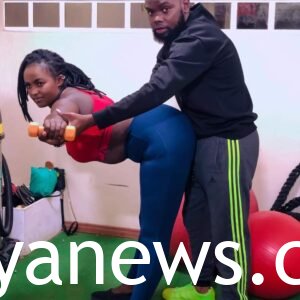 In the photos, the instructor seemed to get a little too close and cozy with the female client, raising a lot of questions. Male respondents, in particular, swore not to allow their girlfriends to attend the gym sessions as depicted by his photos.
In my major question today, do you believe that gym sections are important in your life? Do you mind if the sessions are conducted by a person of the opposite gender as you? For the men, will you allow your wife to attend such gym sessions in your absence? Chat with me in the comment section below.
Personally, it would be very difficult to allow my wife to attend such gym sessions. What if it goes to far and they are not able to control their feelings! It would be very catastrophic.
TO FOLLOW OUR FACEBOOK PAGE, CLICK ON THE LINK BELOW:
https://mobile.facebook.com/mpyanews/?_rdc=1&_rdr
OTHER TOP ARTICLES:
'Aki Mapenzi Wewe😍!' Video of Dancer David Moya Surprising a Lady with Flowers and Message from boyfriend
Dancer of the Year! Meet the Jovial David Moya and His Biography