Neymar's helicopter is one of the most expensive items owned by the football player. Neymar  Jr is one of the celebrated footballers in the world, having bagged many goals for his club and country. He boasts of plenty of experience in big clubs such as Barcelona and Paris Saint Germain. The player is also a big spender when it comes to the latest cars and machines. In this article, we shall analyze all details of his Mercedes Helicopter. Just recently, the Brazilian star posed alongside his personalized helicopter, triggering a lot of attention on social media platforms.
Neymar's helicopter Model
This helicopter is the latest model from the famous Mercedes line. It is an H-145 model which is designed in a Batman mode.
Colour:
The personalized Helicopter is black in color and has a logo of Neymar Jr near its tail. It is inscribed (njr).
Neymar Helicopter Price:
It is estimated that the Helicopter cost the PSG star around 10 million Euros. That translates to 11,845,180.00 United States Dollars.
Capacity:
Capacity is key when determining the specific car or airplane to buy. It is reported that the helicopter has a whooping capacity of 10 passengers with the exclusion of the pilot and the co-pilot.
Purpose:
The helicopter is specifically designed for civilian use. It can also be used for evacuation services as well as medical emergencies.
First Appearance in Public
The first time Neymar Jr appeared in public with the helicopter was during a training session with the Brazilian national squad.
Neymar's Helicopter Speeds
The airbus has a maximum cruising speed of 240 km/hr.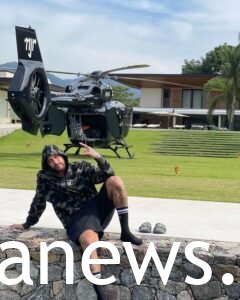 Neymar's helicopter Floor Area.
It covers an area of 4.72 meters squared or 50.77 feet squared.
To return to our main website, click on http://dailyfootballupdates.com
TO JOIN OUR FACEBOOK PAGE, CLICK ON;
https://mobile.facebook.com/mpyanews/?_rdc=1&_rdr
OTHER TOP ARTICLES:
Dancer of the Year! Meet the Jovial David Moya and His Biography
'Apo sasa': Comrades Rejoice as William Ruto Promises the following on HELB Loan, if elected