"A twerk during a head Shave!" See the Latest trends in Nairobi Barbershop: Competition in various business within the city is getting stiffer with time. Indeed, the world is fast changing and things seem to get worse or better. Nairobi being the epicenter of all the latest trends in town never fails us. Well, with the latest trend in town , it means that you are likely to receive a twerk during a hair shave in Nairobi city. Interesting times!
Barbershops in the city are now hiring women to twerk for clients as they are being attended to , a move that has sparked debates across various social media platforms and church forums. With many of the Kenyans opposed to the move, especially the Kenyan ladies, a group of men, commonly known as team mafisi seem to be very comfortable with the Kinyozi's.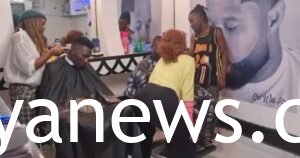 Numerous Barbershop are now using the new technique to attract more customers as the trend is fast gaining momentum in the city. Women now make suggestive dances swaying their backsides seductively as male customers are being attended to.
Our attention has been draw to one of the Kinyozi's run by Mwende in Kamakis region where ladies are paid to twerk as men are being shaved. A group of men are now demanding that we share with them the exact locations of these barbershops so that they can go and receive these type of rare and exclusive service.
In our main question of the day, we would love to know if as a lady, you will encourage your man to visit the Barbershops or you are one of the jealous types? As a Christian man, can you accept to be shaved in such a Kinyozi. Join the conversation today.
CLICK THE LINK BELOW TO FOLLOW OUR FACEBOOK PAGE:
https://mobile.facebook.com/mpyanews/?_rdc=1&_rdr
OTHER TOP ARTICLES:
'Aibu tupu!'Raila Embarrassed Terribly in Iten, Elgeyo Marakwet today following this reason
Dancer of the Year! Meet the Jovial David Moya and His Biography