I trust that your day is moving on well and welcome to our daily posts. Remember that mpyanews.com is the home to the latest and the most credible news across Africa, Middle East, Asia, South America, North America and the entire world. Probably you have come across a post asking if you really know the function of  the sweets and why ladies across Africa are using the sweets. If you haven't yet come across a post on the same, worry less, here is a detailed review of how Kenyan girls are using tropical mint to enhance their flavor "downstairs".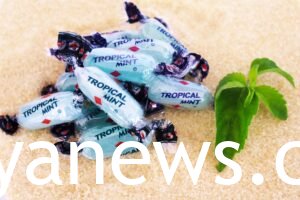 A packet of the sweets retail at Kshs 130. That means that two sweets go for as low as Kshs 5. Some say that the  helps to clear the throat, take away early signs of common colds and taking away bad breath especially if you are expecting a kiss later in the day. However, the tropical mints have proved to be more useful than we thought, especially to our ladies.
If you dont know the other purpose of the sweets, allow me to refer to you as "kienyeji" for now. Much to your surprise, many people out there are using these sweets to enhance "sweetness downstairs". During conjugal affairs with their partners, ladies are using the sweets during activities such as bj. For the men, they are using the sweet before munching the partner's parts.  It is said to up the game for both genders and help them to last longer in conjugal affairs. It is also meant to counter the acidity of the private parts and to give the entire action a "flavor"
However, it should be noted that these are opinions from a Kenyan Facebook group by the name Nairobi journal and does not represent the opinion of the mother company. The sweets remain one of the Kenya's sweetest regardless of what you use them for.
OTHER TOP ARTICLES OF THE DAY:
Bongo Tanzanian Singer Zuchu Involved in an Accident
Mike Brown Biography, career, wife and Children
Ajib Gathoni Biography, Boyfriend and Estimated Earnings on Tiktok