The entire of last week and part of this week has been largely occupied by the Kibaki's state funeral with millions of Kenyans flocking physically and in social media platforms to express their condolences for the fallen statesman. He has been a father to many, an economic legend and arguably the best president Kenya has ever had. Despite the Sombre mood that engulfed the entire nation, a section of Kenyan ladies found a reasons to smile during the entire burial process, the Kibaki's grandsons.
Through various social media platforms, many Kenyan ladies confessed their unending love and claim to have a crush on the former head of state's grandsons. This especially happened during the Nyayo National Stadium burial service that was attended by many heads of states and government.
The Photos of Kibaki's grandsons walking besides the casket and being on board in the open vehicle that carried the body of the late, surfaced online. Interestingly, many ladies have expressed their interests for them, with many asking for their contacts and wishing to date them in future.
Sean Andrew, one of the most outspoken Kibaki's grandson together with his brother carried the day with their cute smiles and lightskin faces. Dressed in tight-fitting suits and nice looking hair, no Kenyan lady would resist their charming looks, leave alone their American ascent. "Sean is so cute, damn" one of the Kenyan ladies wrote on her social media platform.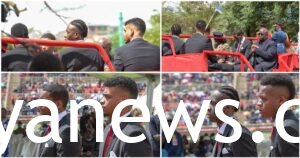 "'Hot is an understatement" Another ladies was captured commenting on the cuteness of the grandchildren. It should be remembered that in a fast developing nations like Kenya, morals and ethics are also revolving. Ladies are nowadays shooting their shot on cute men outside their. Several relationships that have ended up in happy marriages were initiated by women who dared to confess their undying love for their men. Dare today!
To all our Muslim brothers and sisters who are great followers of Mpya News, we wish you a happy Eid celebration. May this season bring you all the joy and happiness you deserve. "Na mtuite sherehe jameni!"
OTHER TOP ARTICLES OF THE DAY:
Best Universities in Kenya in terms of Timely Completion of Degree Programs
Dancer of the Year! Meet the Jovial David Moya and His Biography
CLICK THE LINK BELOW TO FOLLOW OUR FACEBOOK PAGE:
https://mobile.facebook.com/mpyanews/?_rdc=1&_rdr