Kamene Goro is the new talk of the town! The sensational news presenter and cutie at Kiss 100 has surprised Kenyans by revealing that her standards are actually higher than many people think. Kamene Goro boasts of a Lucrative job at the media station as well as being one of the best radio presenters in the country. She is currently single and here is the information she revealed that shock the Kenyan social media platforms.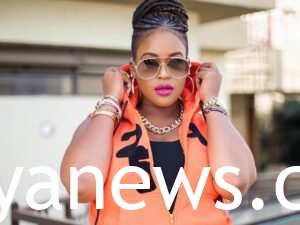 Kamene Goro claims that a secret admirer offered her shs 100 million to sleep with him, a thing she strongly rejected.  She has since hidden the identity of the man but sent to us part of the message that the secret admirer had sent her. It read: "I am not a relationship kind of a person neither do i do commitments. If you can consider my deal, I am in this purely for fun and some really good time".
According to the stream of messages, the rich man planned to take Kamene Goro in a tour of the world while bedding her in exchange of  kshs 100 million.
While responding to his request, Kamene Goro turned down the offer saying that with time , she will earn the money through the works of her hands. This is what she wrote: "100 million shillings is a lot of money, my God, its a load of money but my God is working so hard, blessing me so much that my 100 million is going to come from the work of my hands.
Kamene Goro went ahead to advice the ladies to shan away from all types of promises men are giving you in exchange of their virginity or sex. She advised the ladies not to spread their legs for them to get a pot of gold. What do you think about the offer Kamene rejected? Chat with us today;
CLICK HERE TO FOLLOW OUR FB PAGE;
https://mobile.facebook.com/mpyanews/?_rdc=1&_rdr
OTHER TOP ARTICLES:
Dancer of the Year! Meet the Jovial David Moya and His Biography
Kenyan Neurosurgeon serving life sentence in Kamiti prison for Buying a Phone