7 Expensive Properties/Companies Allegedly Owned By Kalonzo Musyoka: Kalonzo Musyoka is no doubt a rich man by all means. He served as the country's vice president during Mwai Kibaki's government. The Ukambani Kingpin has excelled not only in politics but also in business. He has been hailed as the official spokesperson of the Kamba Community and served as Raila's deputy twice in the 2013 and 2017 elections contest. On this exclusive article, we take a look at who owns Kenya and to be specific, Kalonzo Musyoka. Here is a list of expensive properties and companies he owns.
1.More than 600 acres of lands. The huge chunks of land are located in Ukambani and other parts of the country. The land is one of the biggest in the Country. He has converted it for Livestock and farming.
2.Private Chopper(800 Million Kshs). The former Vice president uses the chopper for his tours around the country. Owining a chopper in the country has been very easy. Various politicians are rocking our skies with branded helicopters and Kalonzo is not an exception.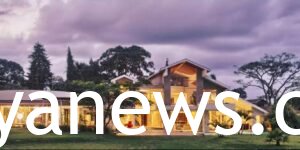 3.The Musyoka Wambua Law Firm. This firm belongs to Kalonzo, who is a lawyer by proffession. He has built his law firm from scratch to what it is today.
4.Rental Apartments. Kalonzo is a landlord with his rental houses spread across the country.
5.Karen Home(800 Million Kshs). His residential home in Karen is that valuable.
6.Yatta Farm. This firm is registered under Desiral limited and is registered under Kalonzo and his wife.
7.Fleet of Expensive Vehicles. Kalonzo moves around with expensive fuel guzzlers that includes many V8 cars. A toyota V8 may cost as much as 17 Million here in kenya.
This is just a glimpse of the expensive properties allegedly owned by Kalonzo Musyoka. Thank you for reading.
OTHER TOP ARTICLES OF THE DAY:
Revealed: 5 Reasons why Ruto will defeat Raila in the August Elections
"Uku ni Kenya kweli?" Beautiful Nairobi Expressway Excites Kenyans
Zuchu Biography, Age, Boyfriend, Nationality and Untold Facts
http://dailyfootballupdates.com