'Uyu anasema atapeana Bundles':Jimmy Wanjigi promises Youths Bundles if Elected President: If you are reading this article, it means that your phone is currently running on data bundles or you are probably glued into an office or public WIFI. We all know the cost of data bundles is getting more expensive with time. That aside, the electioneering period is here with us and politicians are promising us a heaven on earth. They remind me of the fake promises I used to give my wife before marrying her! Same tactics! Truth be told, some of this things are literally impossible. Jimmy Wanjigi today has announced that he will issue every Kenyan with data bundles every month, if elected president.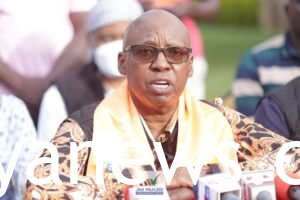 Speaking during the Safina Party national delegates conference(NDC) Presidential aspirant and Safina party flagbearer Tycoon Jimmy Wanjigi has announced that every Kenyan Youth will receive a monthly data bundle worth kshs2000.
In a nation faced by unemployment and massive embezzlement of funds, politicians are running from one part of the country to another promising us all the sweet things in life. Just the other day, Presidential aspirant Raila Odinga has promised to give every unemployed household 6,000 Kshs per month.
To add salt to an already existing would, Presidential aspirant Wajackoyah has promised us the mother of all promises. In an interview with KTN, Wajackoyah promised to hold the biggest party in Statehouse, once elected president. He promised plenty of bhang to smoke in a bid to "santize"'the statehouse, KICC and the parliament from memories of corrupt leaders.
What has your MP or mca promised you this time round? Feel free to share with us and thank you for choosing us.
TO FOLLOW OUR FACEBOOK PAGE, CLICK ON:
https://mobile.facebook.com/mpyanews/?_rdc=1&_rdr
OTHER TOP ARTICLES OF THE DAY:
'Mabwana zenu wanasimp inbox yangu' Male Model Kinuthia warns Kenyan Ladies
A Facebook Post on Condoms Being Allededly Washed and Repackaged in Nairobi Sparks Mixed Reaction