How can I Treat a Runny Nose While at Home? There is plenty of rainfall throughout the country this season. Most people are likely to experience common colds and runny noses commonly referred to Swahili as homa. A runny nose is a state where mucus drips from your nose as a result of cold temperatures, flu, or allergies. Over the past two weeks, most Kenyans have experienced the common colds with the government coming out to answer questions as to whether there is a covid-19 new outbreak. That aside, today I will share a few tips on how to treat a runny nose.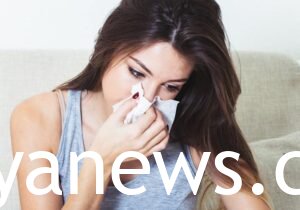 Causes of a Runny Nose Include:
1.Allergies, especially the dust allergies.
2.Nasal and Sinus Infection
3.Common colds.
4.COVID 19 disease.
5.Deviated Septum.
6.Decongestant nose spray overuse.
6.Churg-Strauss syndrome.
It should be noted that not every runny nose results from cold temperatures. Some might be as a result of pollen dust entering through the nose, which starts to make a lot of clear mucus. Here are some of the tips to treat a runny nose.
How can I Treat a Runny Nose While at Home?
1. Take enough rest, whether on the bed or in the sunshine.
2. Be sure to take plenty of water or drinks that hydrate your body.
3. If it results from an allergy, stay off from all conditions that cause the allergy.
4. Wear a mask while working in cold areas and dusty regions.
5. Take a hot shower.
6. Eat Spicy foods, especially those with ginger.
7. Drink hot tea and warm drinks.
8. Take hot water containing ginger and garlic.
Always remember to seek medical attention when the runny nose runs out of control.
OTHER TOP ARTICLES OF THE DAY:
How to Solve the Problem of Insufficient Storage on your Phone
Top 5 Best Loan Apps in Kenya 2022
Where did Cain's Wife Come From, yet the World had Adam, Eve, Cain and Abel Only?
FOR SPORTS NEWS, CLICK ON :
http://dailyfootballupdates.com