Embarambamba has been trending for the better part of last year and part of this year as one of the controversial gospel musicians in the county. He has risen to the high table in the music industry for his style of video shooting and dancing as he is often spotted swimming in muddy waters as well as climbing trees and even recently, climbing on top of moving animals. In an interview with mpyanews, Embarambamba has maintained that he is no bad, but is being driven for his passion to sing for his saviour. That aside, renown Bongo musician Harmonize says that he would like to do music with Embarambamba.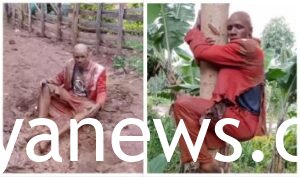 Harmonize recently attended an interview with renown Willy M.Tuma. He praised Embarambamba, saying that he is very unique and that he doesn't mind shooting a collabo with the Kisii gospel singer. It should be remembered that Embarambamba has been in the gospel industry for over seven years only that his moment of glory came during the corona times.
What Harmonize had to say of Embarambamba:
"I wanna see him. I think I see he has a unique way of doing things. He has no time for bad energy, he is just unique and will make you laugh. We have to do music together, bora asinikimbize. As long as he doesn't chase me around."
Embarambamba's Response:
The Kisii musician seemed to be highly impressed by Harmonize agreeing to do music with him. Embarambamba took it to his social media platforms to post the video of the interview.
Tribute to the Late President Kibaki:
Just last week, Embarambamba was in the mud again, this time paying tribute to the fallen Legend the former president Mwai Kibaki. His song raised mixed reactions online but he stood his ground and argued that it was his own unique way of paying tribute to the former head of state.
TO FOLLOW OUR FACEBOOK PAGE, CLICK ON THE LINK BELOW:
https://mobile.facebook.com/mpyanews/?_rdc=1&_rdr
OTHER TOP ARTICLES:
Most Marketable Degree Courses for B+, B, B- and C+ Students
Hardest Undergraduate Degrees in the World