"Fourty bob tu!"Kenyans Roast Mulamwah For gifting his girl cheap flowers:Valentine has passed few days ago but kenyans can't keep calm, reminiscizing of the beautiful moments they shared with friends, family and loved ones. It seems that the entire of the week will be dominated by love and kind words even over  the social media platforms. Mulamwah is one of the celebrated comedians in the country. He is loved by many, yet hated by many who think that he is not funny enough. That aside, the young man has proceeded to be one of the best comedians and content creators in the country.
Just after breaking up with his baby mama, Mulamwah seems to have moved on so fast with a lady identified as Ruth K. The lady is beautiful, smart and classy just like Mulamwah's ex. It seems the latter has a good taste of fine gals. That aside, what suprised Netizens earlier this week is that Mulamwah gifted Ruth K with a flower worth 40 shs only. The flower seemed to have been purchased from a nearby supermarket.
This was contraly to what was happening around the globe where celebrities were giftng their partners multi-billion properties. Mulamwah decided to just give a "cheap flower" as depicted by most netizens. Mulamwah has since been under hot seat but seems to enjoy the debate.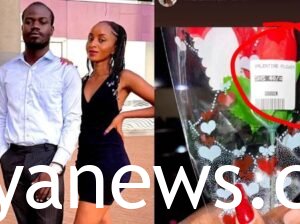 In response, his lover Ruth K just responded with a "sawa tu". Another talented Kenyan responded by saying "Mapenzi ya Thati imekuwa ya fourty". Here at studio we could not keep calm but laugh at the sentiments. For more, follow the post on Mulamwah's facebook page and enjoy the comments. "Fourty bob tu!"Kenyans Roast Mulamwah For gifting his girl cheap flowers.
OTHER TOP ARTICLES OF THE DAY:
Meet Northern Queen Hezena: Aspiring Samburu Women Rep
Super Metro On the Rise: See This Major Investment
Where did Cain's Wife Come From, yet the World had Adam, Eve, Cain and Abel Only?
http://dailyfootballupdates.com
TO LIKE OUR FACEBOOK PAGE, CLICK ON:
https://mobile.facebook.com/mpyanews/?_rdc=1&_rdr