The English premier league has emerged to be one of the best leagues in the entire world of football. It has giant football clubs like Chelsea, Manchester United, Liverpool, Manchester City, and others that have existed for centuries of years. The clubs have invested in state of art buses to ferry their players from one stadium to another. The buses are also used to carry the players from the home stadium to the airport and back. Today, we shall analyze some of the best good-looking club buses in the entire English Premier League. Here are the football club buses
1. Manchester United Club Bus.
Painted in the royal red and black colors of manchester, their bus is one of the best in England. The logo in the front of the buses speaks it all. Am sure every time the machine passes through one of the Manchester United fans, there is always a feeling of fanhood.
2. Liverpool Fc club bus.
It seems that the red colour is carrying the day. Liverpool is indeed a world-class club. Check how the red color with the words 'we are Liverpool' is standing out. The former champions league winners deserve to be driven in the world-class machine below!
3. Chelsea FC bus.
They are the current champions of Europe. Chelsea Owner Roman Abramovich has invested billions in state of art facilities, including the bus below to ferry his players. It seems the blue giant decided to settle on a black bus. It looks cute.
4. Tottenham Hotspurs Football club bus.
To dare is to do! They dared to have one of the best buses in England and indeed here it is. It is one of the coolest football club buses.
5. Leicester City football club bus.
The owners of king power company are doing a good job at Leicester City football club. Check the state of art bus below used to ferry the foxes players. It has safety, comfort, and luxury all in one.
6. Manchester City club Bus
The citizens have got it all! Check the way that Nexen shirt fits into the back part of the bus. Absolute class.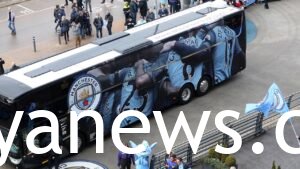 TO FOLLOW OUR FACEBOOK PAGE, CLICK ON THE LINK BELOW:
https://mobile.facebook.com/mpyanews/?_rdc=1&_rdr
OTHER TOP ARTICLES:
Dancer of the Year! Meet the Jovial David Moya and His Biography
'Uyu anasema atapeana Bundles':Jimmy Wanjigi promises Youths Bundles if Elected President