The English Premier League is one of the richest and most lucrative football leagues in the entire world. From just a normal village league, it has risen to glory year after year, thanks to the massive investments made by various key stakeholders and owners. Football players are among the highest paid in the world  hence they have to travel to various away stadiums in style. Below is a list of the finest club buses in the epl. You, as my audience, will help me decide on the best by voting. Take a look:
1.Liverpool FC Bus
Imbedded in red colours of Liverpool, the bus is one of the best in the epl. The bus is ready to ferry the reds to victory.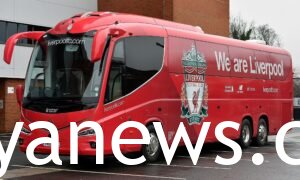 2.Manchester United FC Bus
Sponsored by the AON, the bus is a moving wonder. The state of art machine is a good stare you can't avoid but look at.
3.Chelsea Football club FC bus.
Blue is indeed the colour. Over the years, the Club has invested heavily in state of art machines to ferry its players, one being this one:
4.Manchester City FC bus
With the coming of new investors, Manchester City has grown to be one of the best football clubs in the world and so has been its infrastructure. Check how beautiful this bus is.
5.Leicester City FC bus
Blue colours are emended on the bus, making it look so amazing and Interesting.
6.Crystal Palace FC bus
It the painting on the bus for me.
7.Arsenal FC bus
Arsenal is one of the stylish clubs in the world as depicted by their team bus.