Embarambamba has won the heart of many Kenyans and is one of the celebrated gospel musicians in the country. The controversial gospel singer is known for his chaotic moves while dancing and shooting his songs. The throwing of self into mud and hanging on trees while shooting the gospel video are among many things why he is fast rising as a celebrity in the country. With me here is the highly decorated biography of the musician and everything you need to known about the same.
Embarambamba Real name:
He goes by the name Christopher Mosioma
Embarambamba place of birth and County:
Many have known the musician to hail from the Kisii Community in Kenya. He was born at Keroka, Kisii County in the year 1988.
Here is something about Embarambamba Education:
Many Kenyans have made it in life despite having a low level of education. Embarambamba is not very educated despite being one of the prominent celebrities in the country. In an interview with Mpya News Kenya, the highly rated musician confessed to have dropped out of school in class 8 after his parent died.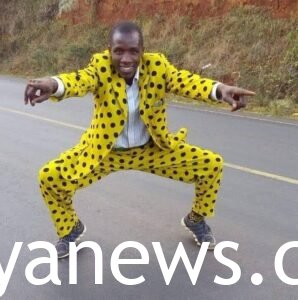 Who is the Wife to Embarambamba:
Yes, it is a fact that despite all the drama's, Embarambamba is married to one beautiful lady by the name Venny Onsigo.
How many children does he have:
Embarambamba is a great lover of large African Families. He currently has five children and probably eying on having more.
Which is his personal favorite track:
Embarambamba himself is a great lover of one of his songs with the title "Bend this way"
Now that you are up to date, subscribe to our Facebook page via this link: https://mobile.facebook.com/mpyanews/?_rdc=1&_rdr
OTHER TOP ARTICLES:
Best Universities in Kenya in terms of Timely Completion of Degree Programs
Hardest Undergraduate Degrees in the World