Expensive Properties and Companies Owned by DP William Ruto: Expensive Properties and Companies Owned by DP William Ruto: There is no doubt to the fact that Kenyan politicians are incredibly rich. They have amassed wealth from all corners of the country. Some of them have been linked to corruption allegations while others have been known to make clean wealth from the handwork of their hands. That aside, William Ruto has been hailed as one of the richest in the country, often being linked to global-multibillion companies in and out of the country.Is he rich as people say? Is the wealth as genuine  as he claims? Join us today in this exclusive article as we seek to find answers for the above questions. Here is a list of the companies he owns:
1.Weston Hotel.
This is one of the Lucrative hotels in the Nairobi city. The premises has appeared on the public limelight for a number of times, with many claiming that the land where it sits was acquired illegally. It is a four star hotel with over 120 rooms. It is worth 2.7 Billion Kshs and is located adjacent to Wilson airport.
2.Media Max and K24 TV stations.
The above mentioned media houses are among the biggest in the country, owned through shareholding. It has emerged that Ruto is the highest shareholder in the companies, controlling over 87% of the total shares.
4.Turbo Farm, Uasin Gishu County.
The farm is one of the biggest in the country. He supplies chicken and their produce to nearly over 40 counties in Kenya. The farm is estimated to be worth close to 1 billion Kshs.
5.Rongai Flats:
Ruto has invested in Real estate businesses across the nation. He owns the Rongai Flats that are estimated to be worth over 500 million Kenya shillings.
6.Over 5 Private Choppers.
With the August elections drawing close, Ruto has invested in state of art world-class helicopters to ferry himself and his allies around the country. The net worth of the helicopters is estimated to be 1.5 billion Kshs.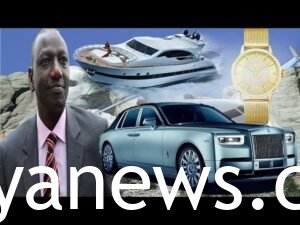 7.Karen Home.
The palatial residence has a net worth of 500 million Kenyan Shillings.
8.Amaco Insurance.
The Insurance industry is one with very high returns. Ruto is the highest shareholder in the company that is worth more than 2 billion Kenyan shillings.
9.Orterter Enterprises Limited Valued at Kshs 2.5 billion.
10.Sentrim 680 Hotel:
Located right in the heart of Nairobi city, the hotel is worth an estimate of 3.1 billion Kshs. To locate the hotel, take a  five minutes walk from the Kenyatta International Conference Centre.
KINDLY "LIKE" OUR FACEBOOK PAGE FOR MORE NEWS VIA THE LINK BELOW:
https://mobile.facebook.com/mpyanews/?_rdc=1&_rdr
OTHER TOP ARTICLES OF THE DAY:
Kenyan Bank where HE. President Uhuru Kenyatta worked as a Teller
http://dailyfootballupdates.com