Signs that There is a Dangerous Snake Living in Your House: Signs that There is a Dangerous Snake Living in Your House: The rainy season is with us again. During such seasons and when the temperatures go low, snakes tend to move to warmer places, and that is close to your house. Often, my readers have complained of snakes invading their houses at night without them noticing. Often snake tend to hide in the darkest corners of our houses and resurface when least expected. Below, I have combined few tips for you to easily notice when snakes are living in your house. Take a look.
1.Snake Droppings. It is biological for every animal to excrete off the wastes. However, snake droppings are very distinctive and you can't fail to notice. If you have come across strange droppings in your house, kindly check in the dark places and clean the house. The droppings resemble those of birds but may contain hair and bones.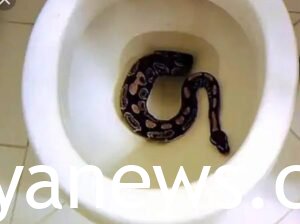 2.Slither tracks. We all know that snakes locomote by slithering. If you are inspecting your house, you might notice slithering tracks. This is a clear sign of a snake in the house.
3.Change in Odour. Snakes emit a very unique smell. Whenever the scent of your house changes into something abnormal, kindly do some random check-ups.
4.Shedding of the skin. It is normal for snakes to shed off scaly dry skin as they grow. If you notice this shedding, then it's clear a snake is in the house.
5.Disaaperance of rodents. If a snake invades your house, then it will be feeding on rats and other rodents around. If rats were previously in your house then suddenly they disappear, check around the house for more signs of a snake.
Below are places where snakes could hide in the house:
1.In the basement. If your house has a basement, it is one of the dark places and kindly clean it up as snakes are likely to hide there.
2.Under the bed. This happens especially when your bed is stuffed with a lot of dirty things and a snake can  easily hide there.
3.In the food stores. For those have food stores, snakes are likely to live in such a place since they tend to live on rodents that are found there.
4.In the dump and dim areas of the house. Lit the dim places of your house.
TO LIKE OUR FACEBOOK PAGE, CLICK ON:
https://m.facebook.com/mpyanews/?ref=py_c
OTHER TOP ARTICLES OF THE DAY:
"Kwani wameachana?"Questions as Nadia and Arrow Bwoy Unfollow each other