Kenyan Universities are home to some of the most beautiful and curvy ladies in the entire of the East African Nations. Talk of beauty with brains, you are likely to find them within the campus walls pursing one degree course, a masters, PhD or even a diploma. However, some of the Universities have been found out to have extremely more beautiful ladies than other Universities. For this reason, our team on the ground has visited a number of Kenyan varsities and prepared this exclusive and detailed report showing which institutions have the most beautiful gal totos. Take a look.
1.The United States International University(USIU).
This varsity ranks on the first position, having the most of the beautiful ladies in Kenyan varsities. You are likely to encounter very beautiful ladies as you move through the streets of USIU. It is also known for being a place for the high and the might in the society. However, caution should be taken as ladies from this varsity are very expensive and on another class.
2.Daystar University:
There is no better description of beauty with brains if not those of the ladies at Daystar University. Part of the reason that this varsity has very beautiful ladies is because of the nature of the courses pursued there-journalism.
3.The University of Nairobi:
It is the biggest varsity in Kenya and is found right at the heart of the city of Nairobi. City girls here are smartly dressed and outgoing. Their curvaceous behinds is something to die for.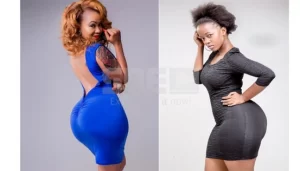 4.Catholic University:
There is something about this varsity! It has very beautiful and engaging ladies ready to mingle.
5.Kenyatta University:
If I was to describe Kenyatta University ladies, I would simply say pretty, curvy and good looking. Damn! At their site, you can't help but stare!
6.Multimedia University:
If you need drama free, pretty and outgoing ladies, here is the place to be.
7.Africa Nazarene University:
This varsity is full of girls who are warm and welcoming. They are down on earth and pretty asf.
OTHER TOP ARTICLES:
"I have a huge crush on Ferdinard Omanyala💖😍" Socialite Huddah Monroe Claims
Dancer of the Year! Meet the Jovial David Moya and His Biography
CLICK HERE TO JOIN OUR FACEBOOK PAGE:
https://mobile.facebook.com/mpyanews/?_rdc=1&_rdr