The campus is one sure place where you are likely to meet various groups of students drawn from across different parts of the world, coming from different walks of life. A few days after joining the Universities and other institutions of higher learning, the students soon gang up into groups of friends. It is likely to identify the groups of students by how they dress up. Here is part of my own analysis of how various groups of University students dress up at different times on different occasions.
1. The church Lovers:
These are mostly officials of the Christian Union and the Catholic movements in the University. The ladies of this group love to wear tall dresses in the most modest way to portray their faith. The gents will prefer tailor-made trousers or a slightly oversize suit.
2. The Engineers;
Engineering students are not into fashion as many of them will prefer to put up anything that is available at that moment. Most of them will prefer just casual trousers and jeans and will walk around the varsity carrying tall rulers that are used in drawing classes.
3. The Law Students:
Law students are an easy group to identify within the University. Dressed in tight and good-looking suits, they are easily spotted from a far. They are likely to move in groups conversing in English.
4. The First Years:
Freshers are the easiest group of people you can spot in the university. They move in groups of two, staring at the Campus buildings and their taste in fashion is a little bit down as they are still very native in their dress code. They have not yet learned of the campus fashion and thus dress a little bit primitively but decent.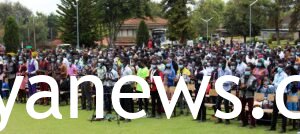 5. The sportsmen and women.
Lovers of sport are likely to move around dressed in their team's jerseys, wearing sports shorts and carrying balls around the varsity probably attending a training session.