"Chunga Usianguke!" Kenyans React as Babu Owino Flys an Helicopter: Veteren Member of Parliament and former University of Nairobi President Babu Owino is indeed a man of many sides. Apart from  excelling in studies, politics and family life,he has proved to be sharp in very many ways. Just after releasing the most recent videos, Kenyans could not keep calm.
Paul Ongili, Alias Babu Owino is the current Member of parliament for Embakasi East in Nairobi County, Kenya. He is one of the controversial members of parliament, often proclaiming himself as the most elite member of parliament. He once served as the University of Nairobi President , a global Institution where he studied actuarial science, law amongst many other courses that have earned him a prestigious place in the society.
On Tuesday 22/2/2022, Paul Ongili was spotted flying an Helicopter from the Coast Province to Nairobi.  Babu had accompanied Rt.Honorable Raila Odinga to a political Rally in the Coast Province. As always Kenyans could not keep calm since he is not a professional pilot. Through his official Facebook page, many streamed in to express their worry of the "Untrained pilot" flying an helicopter.
Some of the Kenyans could not hide their Joy as they wished their Member of parliament safe travels. Others claimed that he was only under instructions and that he was being advised on where to press and so on. One of the Loyal fans by the name Mukami Elljoy went ahead and claimed that she might not love Babu Owino but its clear that the guy has brains.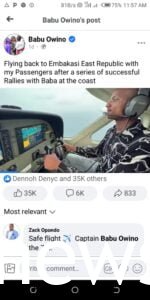 That aside, Babu Owino will be eying to defend his Embakasi East Constituency parliamentary seat against opponents from the Kenya Kwanza alliance. Here at Mpya News Kenya, we wish him all the best in his next journey.
OTHER TOP ARTICLES OF THE DAY:
Revealed: 5 Reasons why Ruto will defeat Raila in the August Elections
Thee Pluto Biography, age, Girlfriend, Children and University Life
http://dailyfootballupdates.com